GUIDE Project
Full title
Creating an European Identity Management Architecture for eGovernment
Acronym
GUIDE
Strategic objectives
IST – Networked businesses and governments (IST-2002-2.3.1.9)
Project Abstract
In 2001 a Ministerial declaration on eGovernment "recognised that appropriate security and trust is a precondition to the successful introduction of on-line eGovernment services. Ministers agreed to strengthen co-operation across Europe to ensure the security of networks and guarantee safe access to eGovernment services". Small progress has been made and businesses and citizens are signing up to identity services out of necessity and governments are left with poor take-up of services. Meanwhile identity theft is growing into a massive security and economic issue.
GUIDE recognises the specific needs of Europe based upon the social, ethical and legislative differences regarding privacy and data protection. Europe is currently at risk of having to accept unsuitable US driven solutions. Therefore the Institutional Setting of Identity in Europe and Excellence in eGovernment Systems and Technology are major elements of GUIDE.
Services must be citizen-centric, user-driven and technology-enabled, which is why the other Major Building Blocks address A2A, A2B and A2C transactions and their accompanying processes and platforms. Research will be tested, demonstrated and validated by working closely with a number of Member State administrations.
Scientifically, GUIDE will create a European conceptual framework for electronic identity management for eGovernment. Technologically, it will begin the development of an architecture for secure transactions between administrations, citizens and businesses and fostering back-office process integration. The social objective will start to create the institutional setting in Europe to endorse take-up of eGovernment services including social, ethical and legislative research.
GUIDE has a long-term vision to make Europe the global leader of eGovernment services by creating an open architecture for eGovernment authentication.
Partners
| | | |
| --- | --- | --- |
| Partic. No. | Participant name | Country |
| 1 | BT Limited (Belgian Branch) | UK |
| 2 | Siemens Schweiz AG | Switzerland |
| 3 | Visa International Service Association (EU Branch) | UK |
| 4 | Center for Technology and Innovation Management | Germany |
| 5 | Crealogix AG | Switzerland |
| 6 | ELCA Informatique SA | Switzerland |
| 7 | Budapest University of Economic Sciences and Public Administration | Hungary |
| 8 | PricewaterhouseCoopers BV | Netherlands |
| 10 | Cyota | Israel |
| 11 | DeCon APS | Denmark |
| 12 | Eesti-Taani Kommunikatsioon Ltd | Estonia |
| 13 | Infonic Ltd | UK |
| 15 | Modirum Oy | Finland |
| 16 | NetSmart SA | Greece |
| 18 | Tecnologia E Ingeneria De Sistemas y Servicios Avanzados De Telecomumicacion | Spain |
| 19 | Eidgenoessische Technische Hochschule Zuerich | Switzerland |
| 20 | The University of Surrey | UK |
| 21 | European Institute of Interdisciplinary Research | France |
| 22 | Research Center of the Athens University of Economics and Business | Greece |
| 23 | ERASMUS Universiteit Rotterdam/Rotterdam School of Management | Netherlands |
| 24 | The Chancellor, Masters and Scholars of the University of Cambridge | UK |
| 26 | Sofia University "St Kliment Ohridski" | Bulgaria |
| 27 | DL Legal | UK |
Events

Meeting Tamás Mészáros, Rector of the BUESPA (Corvinus)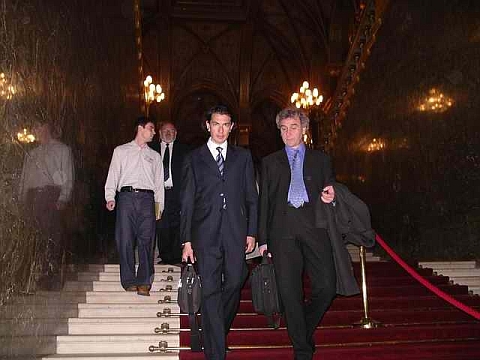 Visiting the Parliament, meeting with Minister Kálmán Kovács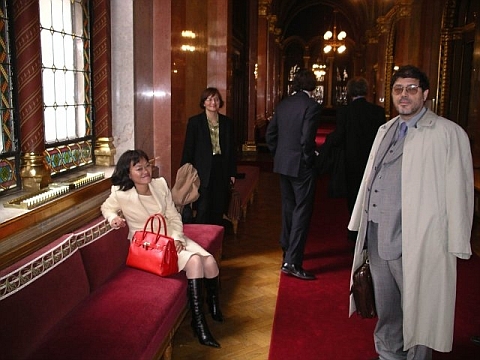 Visiting the Parliament, meeting with Minister Kálmán Kovács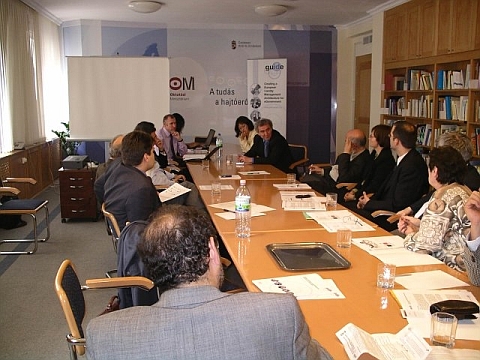 Meeting in the Ministry of Education