eLink Project
http://elink-edu.eu/index.html


The eLINK is an EU project (eLINK – east-west Link for Innovation, Networking and Knowledge exchange Programme, ECW-149674-UK-L12_2008-4949), aims to develop new and enhance existing co-operative teaching and research links and to establish a sustainable virtual learning platform to continue collaborative activities. eLINK will also form a collaborative framework for human resource development through the training and upgrading of the skills of the junior faculty staff, undergraduate students, postgraduate students and post-doctoral researchers in ICT, engineering, technology, business and management.
The project will allow the enhancement of knowledge and skills of teaching staff and students by introducing the latest theories, advancement and methods in ICT, Economics and Industrial Engineering. These include intelligent information systems, modeling and simulations, quality control, robotics, computational systems biology, mobile computing, environmental sceinces, business studies, management science and teaching/education. This will provide a foundation for fostering new partnerships and reinforcing existing collaborations between Asian and EU universities. It will develop a virtual learning platform to share resources, exchange ideas, knowledge and views. The eLINK will mainly involve the mobility of students, researchers and academics between participating institutes for education, research and knowledge transfer.
Objectives
The overall objectives of the proposal are:
To promote the EU higher education system in the participating Asian countries in particular, the least develped countries (Bangladesh, Bhutan, Nepal, Pakistan, China and Thailand), in order to enhance the attractiveness of European higher education.
To improve education, teaching and research activities in ICT, Engineering, Technology, Business and Management, Education and Teachers training in participating institutions.
To exchange ideas, views and knowledge among the partners from both EU and Asia to enhance communication, collaboration, cultural awareness and understanding of current and future needs of the Higher Educational Institutes. This will also give opportunity to learn best practices from each other.
To raise awareness of opportunities in the sector and develop links that can ultimately lead to mutually beneficial economic co-operation.
To establish a virtual learing center (VLC) with digital library facilities to make the eLINK framework sustainable.
Partners
| | |
| --- | --- |
| Name of organisation | Country |
| University of Bradford | UK |
| Budapesti Corvinus Egyetem | Hungary |
| Universitŕ degli Studi del Sannio | Italy |
| Staffordshire University | UK |
| Université LUMIERE LYON2 | France |
| United International University | Bangladesh |
| College of Science & Technology | Bhutan |
| Kantipur Engineering College | Nepal |
| Mohammed Ali Jinnah University | Pakistan |
| Chiang Mai University | Thailand |
| Shanghai Jiao Tong University | China |
Events
Prof. Abdelaziz Bouras of ULL paid a short visit in CUB on March 18.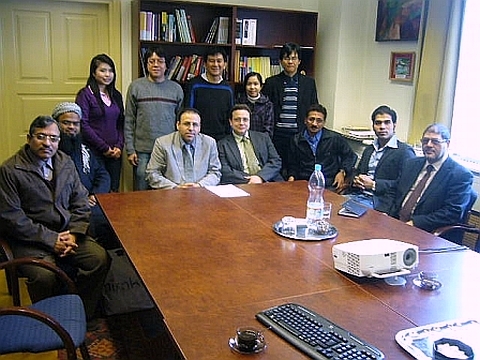 e-Link Project coordinators in Budapest, 2010. March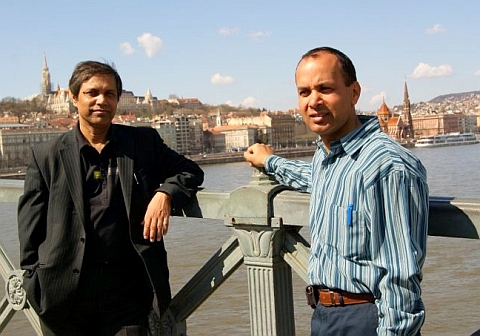 eLink scholars at Corvinus, 2010. March
Project coordinators met with the eLink scholars, 2010. March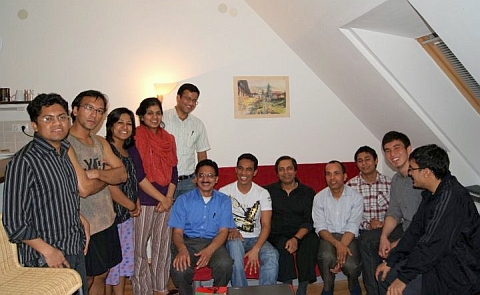 More information
Research activity in eLink project